Authentically prepared in a clay pot, this sweet and savory chicken dish can be braised in the oven. One of my family's favorites, I serve these tasty wings along with wok-tossed greens and rice. Makes 4 servings.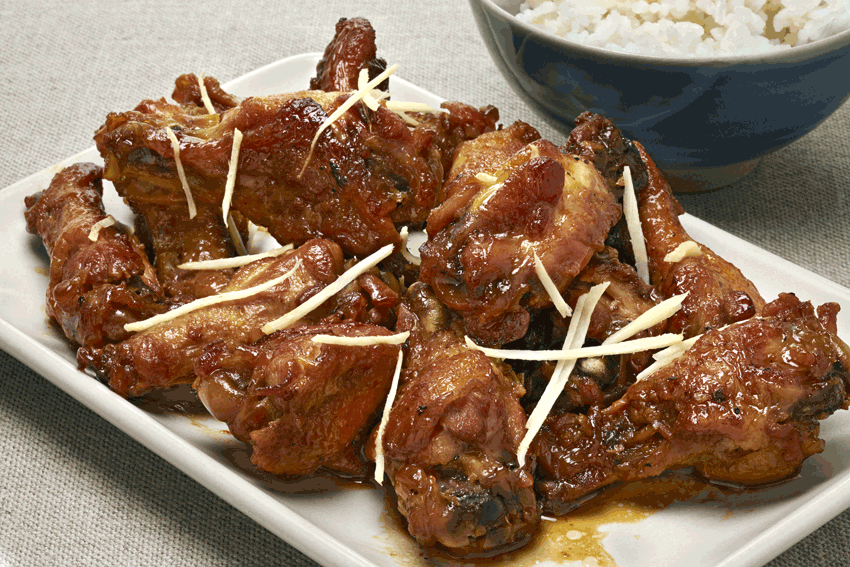 Ingredients
3 lbs chicken wings or drumettes
1 cup thinly sliced shallots
2 tablespoons fresh ginger, minced
3 cloves garlic, minced
1/4 teaspoon ground black pepper
2 tablespoons canola oil
Caramel sauce*
1/2 cup sugar
1 teaspoon lemon juice
2 tablespoons fish sauce
2 tablespoons light soy sauce
Garnish
3 (1 inch) pieces of fresh ginger, finely sliced
Instructions
To make the caramel sauce, combine 1 tablespoon of water, fish sauce and soy sauce in a small bowl and set aside. Heat a small deep saucepan with the ½ cup sugar, 2 tablespoons of water and lemon juice over medium heat. Stir until the sugar dissolves.
Stop stirring and increase the heat to high. Let the sugar come to a vigorous boil, swirling the pan occasionally until the sugar turns light caramel in color, 5 to 6 minutes. Remove the caramelized sugar from the heat and carefully pour the fish sauce mixture into the hot sugar. Stir until the bubbles subside. To braise the chicken, preheat an oven to 350°F.
Heat a dutch oven or a clay pot on the stove top, over medium heat. Once the pan is hot, add 2 tablespoons oil and sear the chicken wings until golden brown on both sides, 10 to 15 minutes. Transfer the wings to a bowl and pour off all the oil leaving 1 tablespoon in the pan.
Reheat the pan to medium and saute the shallots, ginger and garlic until tender, 2 to 3 minutes. Season with black pepper and the stir the caramel sauce into the aromatics. Reduce the heat to low and return the chicken to the caramel sauce, cover with a tight lid and place the chicken in the oven and braise for 30 minutes. Carefully turn the wings over with tongs after 15 minutes. Cover and braise for another 15 minutes.
To serve, garnish the chicken with finely sliced ginger and serve on a warm platter or straight out of the clay pot.
*Cook's Note: Make the caramel sauce in advance and store in your fridge for up to one week.
Back to Recipes