The pungent saltiness of fermented black beans adds depth of flavor and color to this crowd pleaser. Perfect with just steamed rice and sautéed vegetables or double the sauce and serve on top of fresh egg noodles to serve as a satisfying entree. Makes 4 servings.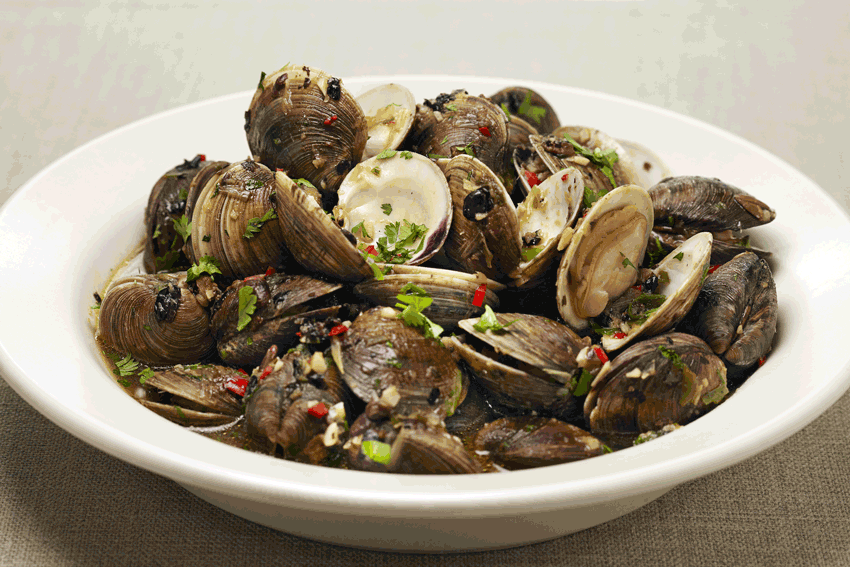 Ingredients
3 lbs Manila or Littleneck clams, scrubbed and drained
1/4 cup plus 1 tablespoon green onions, minced
2 tablespoons minced fresh ginger
3 cloves garlic, minced
1 red Fresno chili, seeded and minced
2 tablespoons Chinese rice wine
1 tablespoon chopped cilantro leaves
2 tablespoons canola oil
Sauce
2 tablespoons light soy sauce
2 tablespoons fermented black beans, rinsed well
1/2 teaspoon rice vinegar
1 teaspoon sugar
1/8 teaspoon white pepper
1 teaspoon cornstarch
1/3 cup water
Instructions
Combine the ingredients for the sauce in a bowl. Set aside. Heat a large wok over medium-high heat. Once the pan is hot add 2 tablespoons of oil and saute the 1/4 cup green onion, ginger, garlic and chili until fragrant, 10 seconds.
Add the rice wine to the pan and cook until most of the liquid has evaporated, 30 seconds. Stir the black bean sauce into the pan and bring to a quick boil, 30 seconds.
Add the clams to the pan and stir-fry until the clams are well coated. Cover the wok with a lid and reduce the heat to medium and steam the clams until they open, 3 to 4 minutes. Discard any unopened clams. Sprinkle the 1 tablespoon minced green onions and cilantro over the clams and stir-fry the clams for another minute.
Transfer the clams to a warmed bowl and serve immediately.
Back to Recipes