When in a rush and feeling like eating a light Thai curry, I always turn to this recipe. Use whatever fresh shellfish and vegetables you have on hand for a quick and satisfying meal. Makes 4 servings.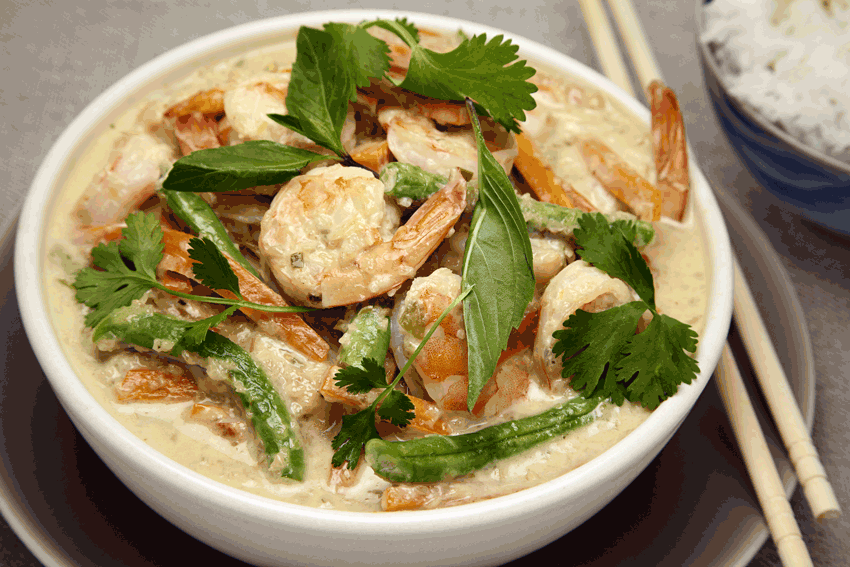 Ingredients
1 1/2 lbs medium shrimp, peeled and de-veined
1 cup carrots, peeled and cut into 3 x 1/4 inch thin strips
1 cup string beans, cut into 3 inch pieces
2 tablespoons canola oil
Curry Paste
2 cloves garlic, peeled
3 shallots, peeled
3 green jalapeno or serrano chilies, seeded and chopped
2 tablespoons galangal, peeled and chopped
1 stalk lemongrass, peeled and finely chopped
2 tablespoons minced cilantro stems
2 minced kaffir lime leaves or 1 teaspoon lime zest
Sauce
2 cups coconut milk
1/4 cup fish sauce
2 tablespoons lime juice
1 tablespoon chopped palm sugar
Garnish
4 sprigs Thai basil
4 sprigs cilantro
Instructions
In a medium bowl, combine the ingredients for the sauce and set aside.
Use a mortar and pestle or food processor and grind the curry paste ingredients into a fairly smooth paste.
Heat a large saute pan over medium heat. Add the canola oil and saute the curry paste until very fragrant and turns a shade darker, 5 to 10 minutes. Add the sauce mixture to the pan and stir until well combined. Add the carrots and simmer the over low heat until the carrots are just tender, about 15 minutes. Add the string beans and simmer for another 5 minutes.
Right before serving, stir in the shrimp and simmer over low heat until the meat turns orange and opaque all the way through.
Transfer the curry to a warm bowl and garnish with Thai basil and cilantro. Serve warm.
Back to Recipes