These soy-glazed chicken skewers are so good both as an appetizer or served as an entree with steamed rice and Sesame-Miso Green Beans. Try these skewers made with shrimp and mushrooms too. Makes 4 servings.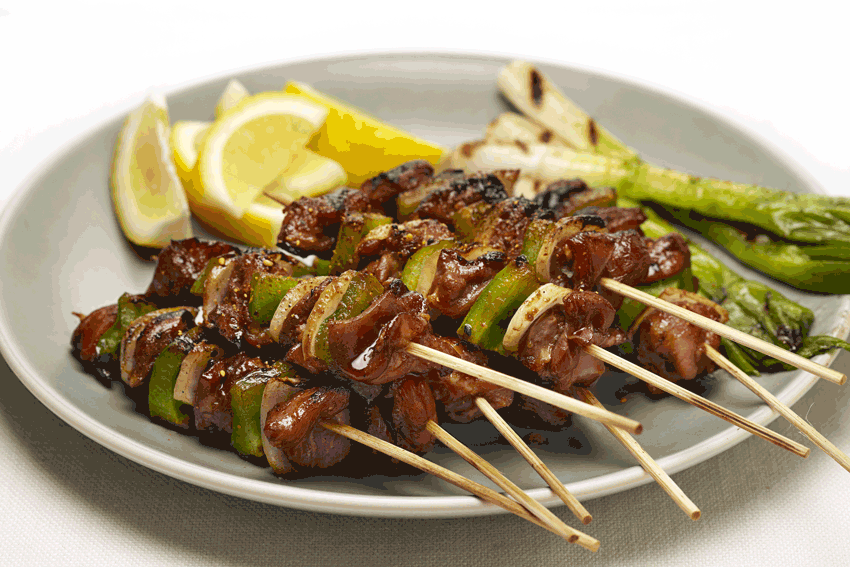 Ingredients
1 ½ lbs chicken thighs, boneless and skinless, cut into 1 inch pieces
12 (8 inch) wood or bamboo skewers, soaked in water for 15 minutes
1 large yellow onion, cut into 1 inch dice
2 large green bell peppers, cut into 1 inch dice
2 tablespoons canola oil 1 lemon, cut into wedges
togarashi for garnishing
Marinade
1 ½ tablespoons fresh ginger, grated
3 cloves garlic, minced
1/3 cup tamari soy sauce
3 tablespoons mirin
2 tablespoons dark soy sauce
2 tablespoons sake
1 ½ tablespoons sugar
Instructions
To marinate the chicken, whisk together the ginger, garlic, tamari, mirin, soy sauce, sake and sugar in a large bowl and mix well until the sugar dissolves.
Stir the chicken pieces into the marinade, cover with plastic wrap and refrigerate overnight or for at least 2 hours. Strain the chicken pieces from the marinade and pour the excess marinade in a small sauce pan.
Thread a marinated piece of chicken thigh on to the skewer followed by a square of onion and green pepper. Repeat the pattern 2 more times. Push the skewered pieces of meat and vegetables tightly together, making chicken the last item skewered. Finish skewering the remaining chicken and vegetables.
Preheat a broiler, grill or a large grill pan over high heat. Rub 1 teaspoon of oil on a baking sheet or grill. Place the skewers of chicken single layer on the baking sheet or grill grate and broil or sear the skewers until crisp and golden brown, 3 minutes.
Turn the skewers and broil or grill on the other side until brown. Meanwhile, boil the marinade over medium heat until syrup-like in consistency, 5 to 7 minutes and then remove from the heat.
Brush with warm yakitori sauce on both sides of the chicken skewers and place on a warmed platter with wedges of lemon and sprinkle with togarashi.
Back to Recipes