Considered the national dish of Indonesia, Nasi Goreng is served anytime of the day. For a more elaborate meal, serve the rice with a fried egg and Grilled Chicken Skewers & Peanut Sauce. Makes 4 servings.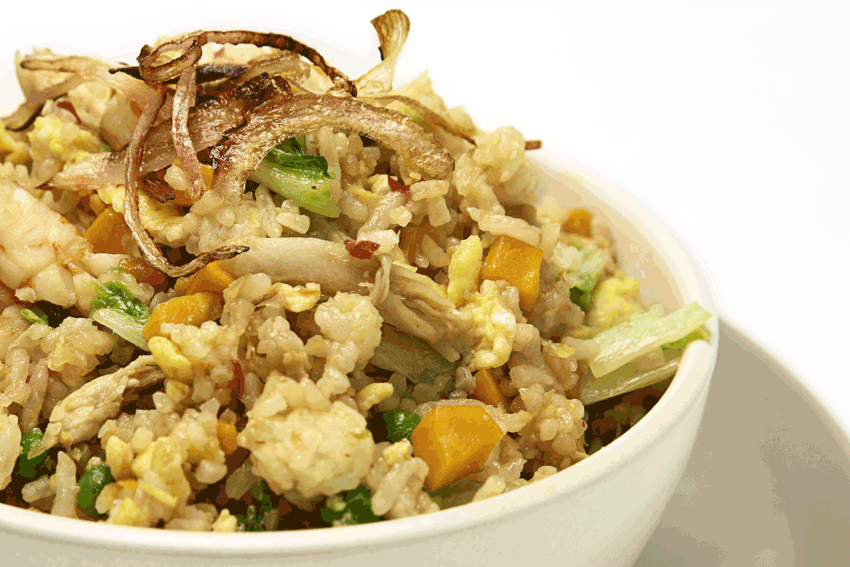 Ingredients
2 1/2 cups cooked jasmine rice
4 oz raw medium shrimp, peeled, deveined and chopped
4 oz roasted or poached chicken, shredded
2 cups Napa cabbage, cut into ½ inch dice
1 cup carrots, cut into ¼ inch dice
3 eggs, beaten
1/3 cup fresh or thawed frozen peas
3 tablespoons canola oil
Seasoning
2 tablespoons sweet soy sauce
1 1/2 tablespoons fish sauce
1 tablespoon lime juice
1 teaspoon chili sauce
Aromatic Paste
2 red Fresno chilies, seeded and chopped
3 shallots, peeled and chopped
1 tablespoon galangal, peeled and chopped
3 cloves garlic, peeled
1 teaspoon shrimp paste
Garnish
1/4 cup sliced shallots, deep-fried until golden brown
Instructions
With a mortar and pestle or mini-food processor, grind together the aromatic paste ingredients with 2 tablespoons of water to form a thick paste.
Heat a large wok or sauté pan over high heat. Once the pan is very hot, add 2 tablespoons of oil and fry the aromatic paste until fragrant, several seconds. Stir in the cabbage, carrots and sauté until the cabbage begins to wilt, 3 minutes.
Add the shrimp and chicken and stir-fry until the shrimp just turns opaque, 1 minute. Transfer the sautéed ingredients to a bowl. In a small bowl, combine the ingredients for the seasoning and set aside.
Reheat the same wok over high heat. Add 1 tablespoon of oil to the hot pan and scramble the beaten eggs until just set. Add the rice and stir-fry for 1 minute, using a spatula to break up any large chunks of rice.
Stir in the peas and return the sautéed vegetables, stir-frying until the rice is heated through, 5 minutes. Pour in the bowl of seasoning and continue to sauté the rice for another 3 minutes.
Transfer the rice to a warmed bowl and garnish with fried shallots.
Back to Recipes