This marinade is perfect for preparing meat on the grill…try with pork ribs or chicken halves and serve with a steaming bowl of rice. Makes 4 servings.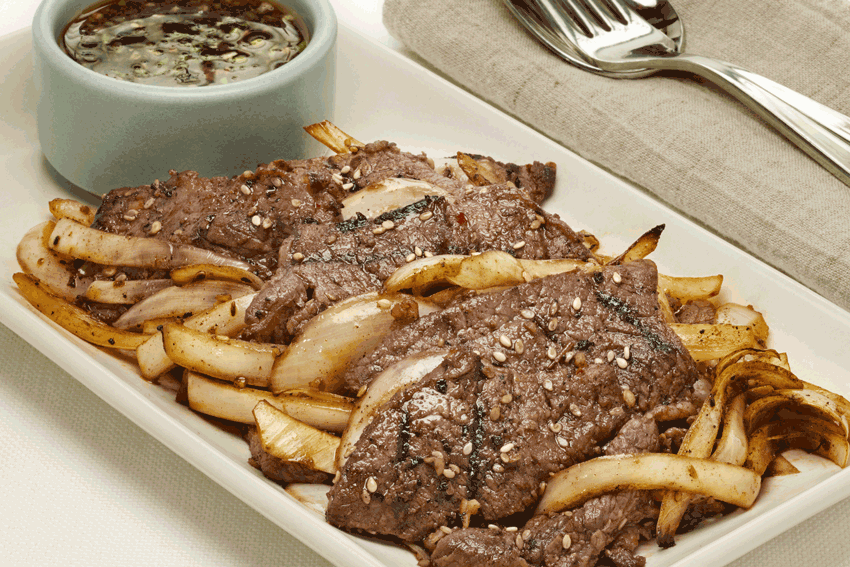 Ingredients
2 lbs rib eye or sirloin, sliced across the grain
1/8 inch x 4 inches wide and pounded thin
1 small onion, thinly sliced
1 tablespoon canola oil
Marinade
4 cloves garlic, minced
1 tablespoon grated fresh ginger
3 tablespoons light soy sauce
1 tablespoon dark soy sauce
2 tablespoons chili bean paste (kochujang)
1 tablespoon toasted sesame oil
1 tablespoon sugar
1/4 teaspoon salt
1/2 teaspoon red chili flakes, crushed
1 tablespoon toasted sesame seeds
Chili-Soy Dipping Sauce
1/4 cup light soy sauce
1 tablespoon toasted sesame oil
1 tablespoon warm water
1 green onion, minced
2 cloves garlic, minced
1/2 teaspoon chili powder or cayenne powder
1/4 teaspoon sugar
Instructions
For the marinade, combine the garlic, ginger, soy sauce, chili bean paste, sesame oil, sugar, salt, red pepper flakes and sesame seeds in a small bowl.
Place the beef, sliced onion and marinade in a sealable plastic bag and pour the marinade over the beef. Seal the bag and massage the marinade into the meat and refrigerate over night or for at least 4 hours.
For the dipping sauce, whisk together the soy sauce, sesame oil, water, green onions, garlic, chili powder and sugar in a small bowl until the sugar dissolves. Set aside. Drain the beef and onions in a colander, discard the marinade and bring beef to room temperature before cooking. Preheat a grill over high heat.
Once the grill is hot, rub the grill grates with 1 tablespoon of oil. Place the slices of meat and onions in single layer on the grill and sear until crisp and brown, 2 to 3 minutes. Use tongs to turn the slices of beef and onions and grill on the other side until the meat is just cooked through, 2 minutes.
Transfer the beef and onions to a warmed platter and serve with the chili-soy dipping sauce.
Back to Recipes