This dish is simple, yet so impressive! To keep the prawns crisp and juicy, flash-fry the shellfish right before serving. Also try pairing with Dry-Cooked Long Beans and steamed rice for a complete meal. Makes 4 servings.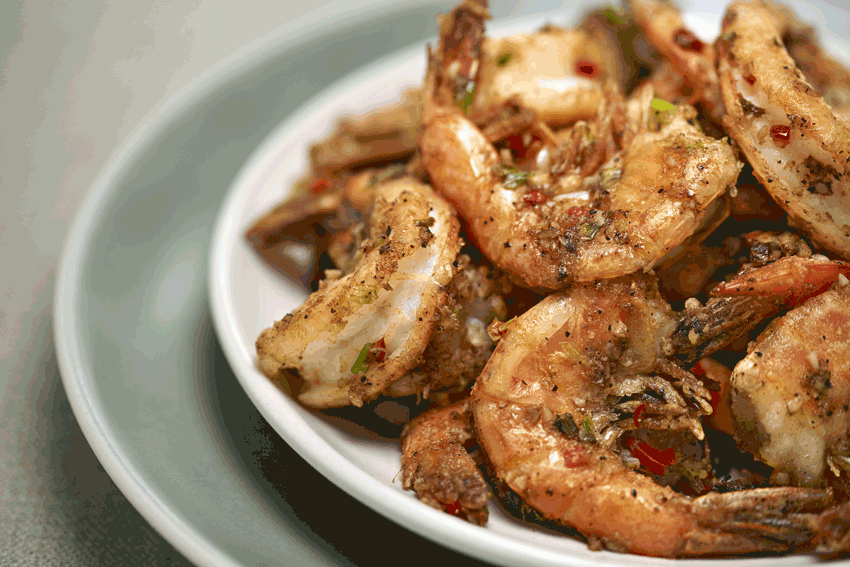 Ingredients
2 lbs large prawns, peeled, deveined and butterflied (shell may be left on if desired)
2 tablespoons cornstarch
1/2 teaspoon salt
1 teaspoon ground white pepper canola oil for deep-frying
Aromatics
1/4 cup minced green onions
2 tablespoons minced ginger
3 cloves garlic, minced
1 red Fresno chili, seeded and minced
Seasoning
1 teaspoon five spice powder
1/2 teaspoon salt
1/4 teaspoon sugar
1/4 teaspoon coarsely ground black pepper
Instructions
In a small bowl, whisk together the cornstarch, salt and white pepper and set aside. In another small bowl, combine the ingredients for the aromatics. In a third small bowl, combine the seasoning ingredients and set all aside.
Right before serving, fill a wok or deep pan with 3 inches of canola oil. Heat the oil over medium high heat to 375°F on a deep-fry thermometer. Once the oil is ready, working in 2 batches, toss the prawns in the cornstarch mixture, shake off the excess and slide the prawns in to the oil.
Fry until light golden brown and until the shrimp just turns orange, 15 to 20 seconds. Use a wire skimmer to transfer the shrimp to a baking sheet double lined with paper towels. Allow the oil to reheat and fry the second batch.
Heat a separate wok or large saute pan over high heat. When the pan is hot, add 2 tablespoons of oil to the pan and stir-fry the aromatics until fragrant, several seconds. While continuously stirring, add the seasoning mixture.
Return the flash-fried shrimp to the pan and stir-fry until the shrimp are well coated with the spice seasoning and heated through. Transfer the shrimp to a warmed serving platter and serve immediately.
Back to Recipes