Welcome To My New Website, Blog, Facebook, Twitter & YouTube

Just in time for the Holidays, I'm excited to report that I have a brand new website, FarinaKingsley.com, and other online tools (Blog, Facebook, Twitter and YouTube).  More fun and informative than ever, they were built to help you, the home cook, find ways to prepare delicious Asian food more easily.
Featured Recipes
First, each month, I'll have a new Featured Recipe.  This month's is one of my favorite salad entree dishes, Grilled Beef & Mango Salad.
Shopping Feature
FarinaKingsley.com now has a new Shopping feature making it easy to buy my iPhone/iPad App and any of my cookbooks.  Newly available are my Asian Pantry Kits designed to make it easy to find those hard-to-find ingredients so critical for making my Asian recipes taste authentic.  These can make great holiday gifts for the cooks in your life – or for yourself!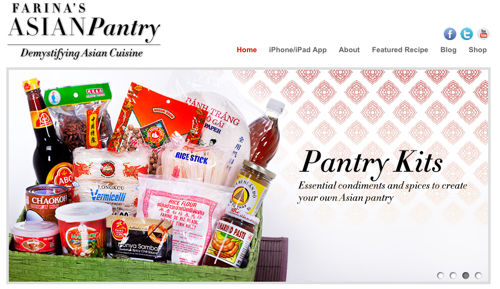 BLOG
Visit the newly designed Farina's Asian Pantry Blog where I share my travel stories, restaurant experiences, photos, recipes and my perspective on food culture from all over the world.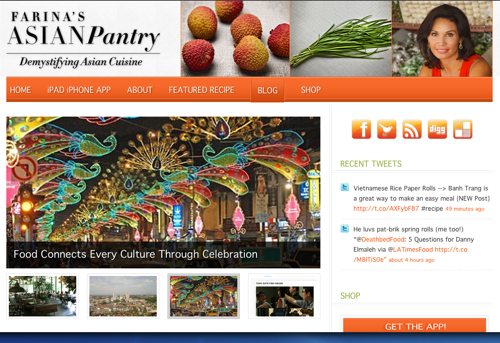 To give you a flavor of what I write about, some of the new posts include:
Restaurant Experiences in Singapore and elsewhere: My PS Cafe visit inspired me to create my own version of Cured Salmon Salad;
Travel: My recent trip to Melaka in Malaysia enabled me to sample Nyonya cuisine and enjoy a delicious fish mousse version of otak otak; and
Food Culture: Anthony Bourdain's new show, The Layover, had its first episode set in Singapore! It featured one of Asian's premiere celebrity photographers, Russel Wong, who also took many of my photographs for my website.
Facebook, Twitter, YouTube
My Facebook, Twitter and YouTube sites have all been revamped to include the latest news and details on cooking Asian food in the home kitchen – as well as to help you get to know me better.  I'm hopeful that all of these tools will allow us to build a community of people who enjoy the flavors of Asian and cooking Asian food at home!