Farina's Asian Pantry App Is Now New & Improved
I developed my App to demystify Asian cooking in the home.  I'm thrilled that the Apple iTunes Store is featuring the App in its Lifestyles section.  My video below gives a great introduction to what it's all about:
One of the main new features of my App are my Asian Pantry Kits.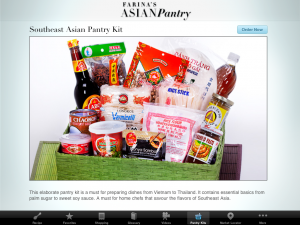 These kits are designed to make it easy to get those hard-to-find ingredients so critical for making my Asian recipes taste authentic.  These can make great holiday gifts for the cooks in your life – or for yourself!
Japanese/Korean Pantry Kit: These essential pantry ingredients are a must for preparing Japanese and Korean recipes in your home. From seaweed to red pepper paste, this kit will start you on your way to preparing a variety of dishes from Japan and Korea.
Chinese Pantry Kit: This collection of essential ingredients is ideal for preparing recipes from all regions of China. It includes all the basic liquid and dry condiments that every Chinese pantry should have, including: Light & Dark soy sauce, Black vinegar, Chinese rice wine, Chili bean paste, Sriracha chili sauce (everyone's favorite!), Hoisin sauce, Dried black mushrooms, Fermented black beans – and more.
Southeast Asian Pantry Kit: This elaborate pantry kit is a must for preparing dishes from Vietnam to Thailand. It contains essential basics from palm sugar to sweet soy sauce. A must for home chefs that savour the flavors of Southeast Asia.
There are also two new Videos:
A Technique Video on how to sear fish & meat; and
Video explaining my Asian Pantry Kits.
And other cool, new features include:
GPS Locator – The "Asian Grocery Locator" helps you find the Asian grocery store closest to you; and
Social Media Sharing - Facebook and Twitter have been added so you can easily share recipes and photos with your friends, family and followers.
So, I hope you enjoy my App.  Here's to successful Asian cooking at home!