Nose-to-Tail Cooking Ever Popular in Bali with Whole Roasted Suckling Pig

The "snout-to-tail" whole animal utilization craze has raised the status of pork far beyond "the other white meat."
Eating all parts of beef or pork is becoming a gourmet mainstay throughout the US with many chefs jumping into the trend, as highlighted on Marcus Samuelsson's blog recently. Chefs like Chris Cosantino at San Francisco's Incanto is leading the way with his passion for offal and is currently working on a cookbook on the subject. At Incanto, he offers offal on his daily changing menu as well as at his Annual Head to Tail Dinner. Other chefs in on this trend include Chef Jamie Bissonnette of Boston's Coppa and Chef Ray Garcia does for catering from FIG Restaurant in Santa Monica. Anthony Bourdain has done many "No Reservations" shows about the topic as well, including a recent episode when he traveled to Cajun Country and ends his trip with a whole-hog roast.
Eating a whole pig has always existed in Asia and Bali is definitely heaven for any whole roasted pork lover. Predominantly Hindu, Bali is famous for babi guling, spit roasted whole suckling pig. Available at a range of street side warungs (open air restaurants), locals and tourists alike flock for the traditional local delicacy.
The Balinese are very discerning about where to go for the best roast pork.  After asking my local friends, arrows kept pointing to the famed Ibu Oka's in Ubud.  This recommendation was consistent with Anthony Bourdain's himself who recommended it in his Indonesian No Reservations show which Travel Betty nicely summarized in her 2008 post, saying it was well worth traveling around the world for!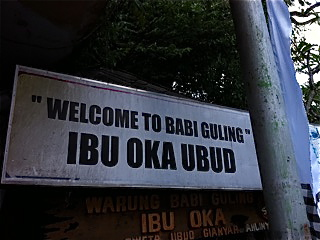 Rated one of the best in Bali, Ibu Oka's famed babi guling is a whole pig rubbed down and stuffed with bumbu bali, a spice paste of spices which includes shallots, garlic, ginger, turmeric, galangal, pepper coriander, candlenuts, chilies, and lemongrass – then roasted over an open fire of wood and coconut husks. The pig is continuously roasted on a spit up to five hours, turned slowly to ensure even cooking so that the meat ends up tender and juicy with a mahogany colored crackling skin.
Ibu Oka is named after the elegant matriarch Ibu (Mrs) Oka who runs 2 warungs within walking distance of one another. The restaurants roast only 4 to 5 pigs a day and are open just for lunch until the last of the babi guling is sold.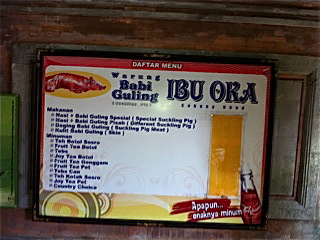 Ibu Oka's specialty is Nasi Babi Guling, a serving of steaming hot rice, with a huge chunk of amazingly tender, melt in your mouth pork, along with its crunchy skin. The accompanying side dishes served along with the pork are stir-fried long beans cooked with fragrant spices and coconut, blood sausage and tasty crispy pork cracklings made up of a mixture of minced pork, spices and flour deep fried to a crisp.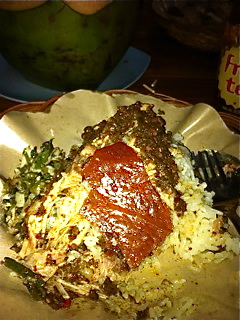 Nothing compares to the flavor of slow roasting a whole pig over an open spit. Although difficult to duplicate in your own kitchen, the next best thing is making a flavorful spice rub to smother on a manageable cut of pork shoulder – then barbecuing or slow oven roasting it until tender with a crispy skin.  Hope you enjoy my recipe below!
Ingredients:
Balinese Babi Guling
1 5 – 7 lb pork shoulder, skin on and boned
1 1/2 tablespoons salt
10 small shallots, peeled and chopped
6 cloves garlic, peeled and chopped
2 inch piece galangal, peeled and chopped
2 large pieces fresh turmeric, peeled and chopped
8 candlenuts or macadamia nuts
10 fresh small red chilies
5 stalks lemongrass, peeled and chopped
1 tablespoon black peppercorns, ground
1 tablespoon toasted coriander seeds, ground
6 kaffir lime leaves
1 teaspoon shrimp paste
3 tablespoons vegetable oil
Turmeric rub
2 pieces fresh turmeric, peeled and grated
1 teaspoon salt
3 tablespoons water
Directions:
Preheat and oven to 275ºF. In a mortar and pestle or food processor, combine the salt, shallots, galangal, turmeric, candlenuts, chiles, lemongrass, peppercorns, coriander seeds, kaffir lime leaves and shrimp paste. Grind to form a thick paste and stir the vegetable oil into the paste.
Wash and pat dry the pork shoulder and rub the spice paste all over the meat and allow to marinate for 24 hours. Before roasting in a grill or oven, bring the meat to room temperature. In the meantime make a turmeric rub for the pork shoulder skin. In a small bowl, grate the fresh turmeric into a bowl and add water and salt. Scrape the marinade off the top skin portion of the pork shoulder and rub 3/4 of the turmeric paste onto the skin to season and color the meat.
Place the pork shoulder on a grill or shallow pan in the oven 3 to 4 hours or until the meat is tender. Baste the pork shoulder with the remaining turmeric rub. Increase oven temperature to 450 degrees and roast at high heat for 15 minutes to crisp the skin. Rest the meat for 30 minutes before serving. Slice the meat with the crispy skin and serve with steamed white rice. Spoon an pan juices over the meat.