Festival of Lights – Giving Thanks

 This time of year right before Thanksgiving, we also enjoy celebrating Deepavali, the 5 day Hindu holiday also called the "festival of lights". Like Thanksgiving, it is a time of thanks to god, family and friends for happiness, knowledge and peace.
During this season, the temples and streets of Singapore are colorfully lit with dazzling lights and decorations and the lanes of Little India are transformed into festive bazaars. Since living in Singapore, one of our favorite family's traditions is to head to Serangoon Road early morning for a classic South Indian breakfast of dosa or thosai, as they call it here in Singapore and a hot cup of teh tarik (sweet pulled tea).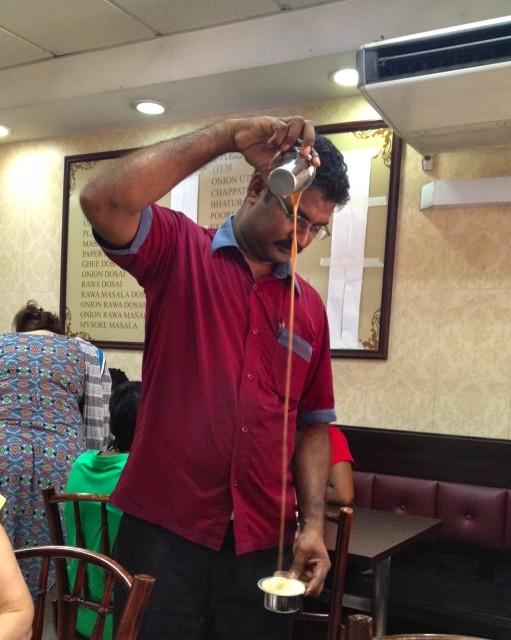 A staple breakfast and street food dish indigenous to Southern India, dosas are made in eateries and hawker stalls though out Little India. One can't help but love the paper thin pancakes hot off the griddle dipped in cooling coconut and cilantro mint chutneys and a warm spicy sambar (lentil curry).
These savory crepes or thin pancakes are made from soaked rice and husked black lentils ground with slightly sweet and nutty fenugreek seeds and water, forming a thin batter. Fermenting the batter overnight, allows the dosa to develop a slight tangy flavor similar to sourdough. This simplistic griddle bread recipe requires a bit of patience to perfect the batter. The key is to soak the right combination of long grain rice rice and urad dal (black lentils) long enough so the batter has a fairly smooth consistency and by allowing it to naturally ferment overnight, it creates a frothy yeast like "dough".
When the batter is ready, the crepe-like batter is ladled on a hot tava (griddle) rubbed with oil or ghee (clarified butter) and evenly spread out with the back of a ladle to form a thin circle and cooked until crispy brown. Dosas can be browned on both sides or if paper thin, cooked just on one side and either folded in half or rolled like a wrap and served piping hot.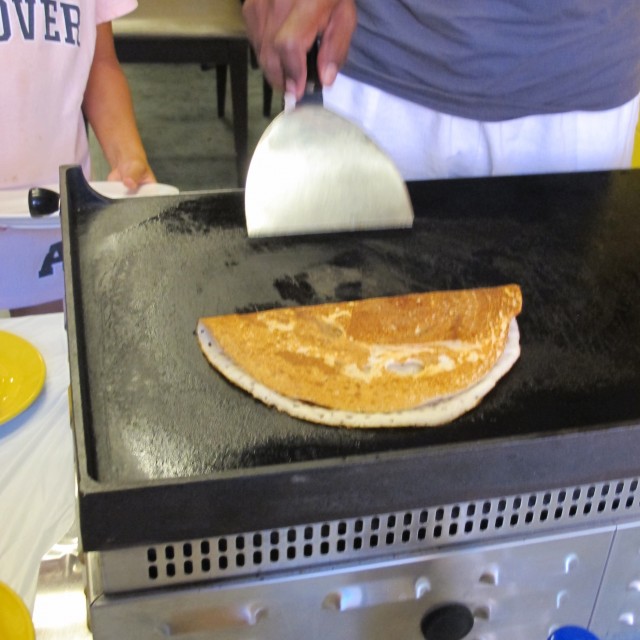 There are endless variations of dosas, from thin and crisp to thick and slightly chewy.  Few of the more popular dosas are paper dosa, when dosa batter is spread thin and rolled into a cone or long tube. There's also egg dosa which is filled with a scramble of egg that cooks with the batter. A hit with most, is masala dosa, when the crepe is filled with a spiced potato and vegetable filling and folded into a packet.
Happy Deepavali! Light a candle to usher in a year of good fortune and try starting your day with a crispy dosa during this week of celebration.
Dosa Batter
Serves 4
1 1/2 cups long grain rice (basmati)
3/4 cup urad dal (black lentils), husks removed
1 tablespoon chana dal (yellow lentils)
1 teaspoon fenugreek seeds
1 teaspoon salt
1/3 cup vegetable oil
1 small onion, peeled and halved
In a large bowl, combine the rice and lentils and rinse until the water runs clear. Cover the rice and lentils with fresh water and let soak overnight or for at least 8 hours.
Drain the soaking liquid and use a strong blender to grind 2 cups of soaked rice and lentil with 1/2 cup water to form a fairly smooth paste with the consistency of light pancake batter. Transfer the batter to a large bowl. Repeat with the remaining rice and lentil and water, fenugreek seeds and salt and add to the bowl of batter and mix well. Cover the bowl with a towel or plastic wrap and let the batter sit in a warm draft free place and let the batter ferment overnight.
The next day, the batter should be creamy and frothy. Gently stir the batter with out over mixing. Preheat a well seasoned griddle or a nonstick pan over medium-high heat. Once the pan is hot, add 1 tablespoon of oil and put the tynes of a fork into the rounded halve of and onion and use it to swirl and flavor the oil on the griddle or pan.
Ladle 1/4 cup of batter on to the griddle and use the rounded back of the ladle and quickly spread the batter outward into a thin circle less than 1/8 inch thick and 10 to 12 inches in diameter.
Allow the dosa to cook and turn golden brown, about 5 minutes. Once the dosa batter appears dry, sprinkle a little oil over the dosa. When crispy brown spots show through the thin batter, roll or fold the dosa in half and serve immediately with the cilantro chutney. Repeat with the remaining batter.
Cilantro Yogurt Chutney
2 cups cilantro leaves
1/2 cup mint leaves
1 jalapeno, seeded and coarsely chopped
1 shallot, peeled
2 cloves garlic, peeled
1 teaspoon ground cumin
1 tablespoon fresh lemon juice
1 cup plain lowfat yogurt
1/4 teaspoon salt
1/8 teaspoon ground black pepper
In a mini-food processor, process all the ingredients until smooth. Season to taste with with salt and serve cold. Refrigerate up to 4 days.