Fun Teaching Non-Cook DeathbedFood To Make Curry From My App

Over the holidays, I had a chance to meet up with Food Blogger (and my social media consultant) Diane Wagner (aka DeathbedFood) in San Francisco.  While she's an admitted non-cook, she wanted to have me help her learn how to make Green Coconut Curry from my "Farina's Asian Pantry" App in order to help her better promote it.  We chose that recipe as a starting point since Diane told me she was on a "Thai kick" recently (enthusiasm is more than half the battle!).
Prior to our meeting, Diane had ordered one of my Asian Pantry Kits ahead of time (the Southeast Asian Kit) to help with the preparation.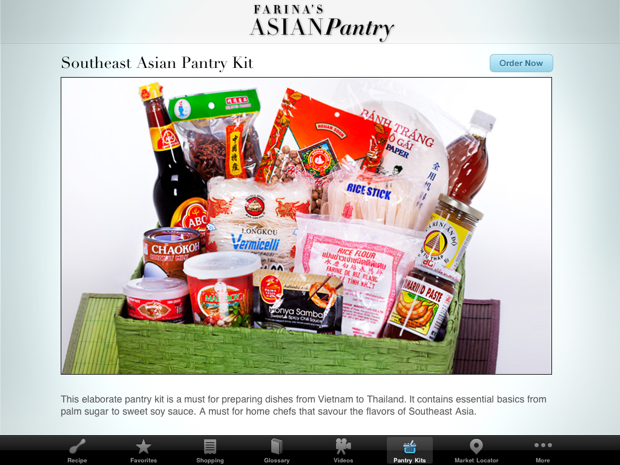 In our lesson, I first explained the ingredients needed (some were sourced from my Pantry Kit and others were from the Asian market we found using the GPS Asian Grocery Locator feature on my App).  I then moved on to the bigger challenge of trying to teach Diane about the techniques needed (note: some of her techniques, like that for lemongrass, still need some work!):
Apparently, I created quite a Curry Queen in Diane as she now blogs that she lives, breathes … and cooks … the stuff!
So, if she can do it, I'm 99% sure you can too!  If you'd like to try the recipe we used, I've listed it below.
Green Coconut Curry Shrimp (or Chicken*) and Vegetables
Makes 4 servings
Ingredients
* 1/2 lbs boneless chicken breast or thighs, cut into 2 inch pieces (or you can use shrimp)
1 cup carrots, peeled and cut into 3 x 1/4 inch thin strips
1 cup string beans, cut into 3 inch pieces
2 tablespoons canola oil
Curry paste
2 tablespoons green curry paste               
2 cloves garlic, peeled
3 shallots, peeled
2 tablespoons galangal or Chinese ginger, peeled and chopped
1 stalk lemongrass, peeled and finely chopped
2 minced kaffir lime leaves or 1 teaspoon lime zest
Sauce
2 cups coconut milk
1 cup water
3 tablespoons fish sauce
2 tablespoons lime juice
1 tablespoon chopped palm sugar
Garnish
4 sprigs Thai basil
4 sprigs cilantro
Instructions
In a medium bowl, combine the ingredients for the sauce and set aside.
Use a mortar and pestle or food processor, grind the curry paste ingredients into a fairly smooth paste.
Heat a large saute pan over medium heat. Add the canola oil and saute the curry paste until very fragrant and turns a shade darker, 5 to 7 minutes. Add the sauce mixture to the curry paste in the pan and stir until well combined. Add the carrots to the coconut milk mixture and simmer the over low heat until the carrots are just tender, about 15 minutes. Stir the chicken and string beans into the coconut curry broth and simmer until the chicken turns opaque, about 7 to 10 minutes.
Transfer the curry to a warm bowl and garnish with Thai basil and cilantro. Serve warm with white rice.  Enjoy!