Our Tale of Two Islands – Bald Head and Great Britain

From one extreme to the next…our family was surfing one day on sleepy Bald Head Island, NC and then catapulted to the exciting Olympic games in London.  The city is one of my favorite in the world because London is historically rich and especially lively and vibrant.
My husband and I are huge Olympic fans and have made a point to attend the summer Olympics every 4 years. The Beijing Olympics was spectacular debuting it's grandeur and newness; while London has been so much more about locals inviting visitors to share in day to day life while partaking in an incredible celebration of nations. Thanks to the excellent transportation system and tireless volunteers, this Olympic experience has been an absolute pleasure.
I'm in awe of the city's organization of such an epic event and of the spectacular  gathering of the world's ultimate athletes….even the weather has held up! Then there's always the food. Unlike Beijing's restraint due to food security, the only snacks offered were MSG laden chips or nuts and 4 pop-up McDonalds servicing the entire Olympic footprint. The London games' however, have multiple food kiosks offering a variety of cuisines; including local fare like meat "pasties", fish and chips and my favorite, Wimbledon's traditional strawberries and cream and "fruit cup" – a British version of a the cocktail, Pimm's cup. Some venues have even offered a smattering of ethnic choices from Indian to Chinese.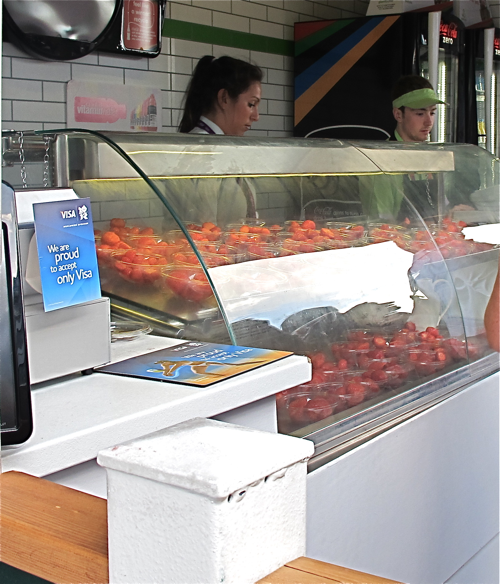 I wish I could report more on all the fun pubs and local restaurants in London this time around, but I'll have to save it for my next food and culture trip to this great city….off to Paris next.