Love Salmon? Tired of Salad? Try This Version To Spice Things Up!
Living in tropical Singapore, where it's summer all year round, encourages me to spend as little time perspiring over a hot stove as possible. I crave crisp cooling salads with grilled meat or seafood for a bit of protein. I recently found an amazing salad that's refreshingly satisfying served at the ever hip and and popular Singapore restaurant, PS Cafe.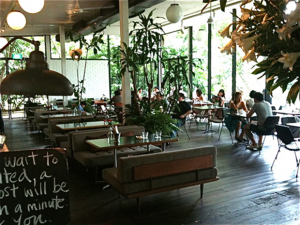 This cafe favorite, called the "Big Nihon Salad," is a colorful mix of greens, cold soba noodles, tomato slivers, cucumbers, raw kabocha squash – and topped with savory ribbons of soy cured salmon and creamy tofu cubes.  The PS Cafe kitchen pairs the salad with a tangy sesame ginger vinaigrette dressing in this wonderful, texture-filled entree salad.
The art of curing salmon is an age old technique that exists in many cultures. The process was originally developed to preserve fish, by rubbing a large quantity of salt or salt, sugar and herbs on to fish filets and allowing the meat to "cook" by pulling away any moisture. Unlike the traditional salt and sugar process of raw curing (like gravlax), which takes up to 4 days, curing with soy sauce takes much less time and thoroughly enhances the flavor of the salmon.
In my interpretation of PS Cafe's recipe, salmon filets are cured overnight by immersing them in a soy sauce/ginger brine. The filet turns a shade darker and "cooks" until taking on a ceviche-like texture. For a quick entree size meal, try serving the cured salmon over warm sushi rice and quickly stir-fried baby bok choy, using the dressing as a dipping sauce on the side (a great technique to add to your cooking arsenal).  Below, please enjoy my interpretation of the PS Cafe Salad!
PS Cafe's Soy Cured Salmon Salad
Ingredients:
12 oz salmon filet, center cut and skin removed
1 cup light soy sauce
1 tablespoon grated ginger
1/4 cup minced green onions
2 tablespoons chopped cilantro leaves
Salad:

3 cups tender pea shoots
1 1/2 cups cooked soba noodles, halved with scissors
1 large tomato, seeded, trimmed to 1/8 inch thin and sliced into match stick strips
1 1/2 cups blanched edamame (soy beans)
1 cup silken tofu, drained well and cut into 1/2 inch dice
2 tablespoons thinly sliced pickled ginger
1 tablespoon thinly sliced green onions
1 sheet nori, folded in thirds and cut into 1/4" strips with scissors
1 teaspoon toasted sesame seeds
Dressing:
4 tablespoons Tamari soy sauce
1 teaspoon lemon juice
1 teaspoon pickled ginger juice
1 teaspoon honey
1/2 teaspoon Dijon mustard
1/4 cup canola oil
1/8 teaspoon sesame oil
1/8 teaspoon ground black pepper
Directions:
To cure the salmon, in a blender or food processor, add the soy sauce, ginger, green onions and cilantro and blend until fairly smooth. Transfer the mixture to a shallow bowl and submerge the salmon filet so that it is completely submerged. Cover with plastic wrap and refrigerate for 24 hours.
To make the dressing, whisk together the tamari, lemon juice, pickled ginger juice and honey in a medium bowl until smooth. Pour the vegetable and sesame oils in a slow stream into the dressing while whisking continuously. Season with black pepper to taste.
To assemble the salad, remove the salmon from the marinade and discard the marinade. Pat the salmon dry and slice the salmon across the grain into 1/8 inch strips. In a large bowl, combine the pea shoots, soba noodles, tomato strips, edamame, tofu, pickled ginger and green onions in a large bowl. Drizzle half the dressing over the ingredients and gently toss together. Divide the salad between 4 plates and garnish with 5 slices of salmon, nori and sesame seeds. Serve extra dressing on the side.
Makes 4 servings.