Breakfast has always been one of my favorite meals. Whether it's eggs and bacon, a stack of pancakes or a hearty bowl of oatmeal…I truly savor a leisurely morning meal with a hot cup of coffee and a good read.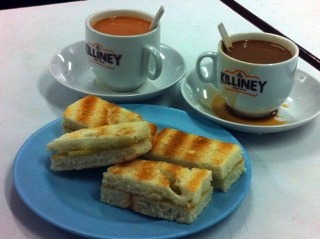 Now that I live in Southeast Asia, I've added the breakfast staple of Singapore and Malaysia to my morning favorites..kaya toast with soft boiled eggs and a kopi-c. This satisfying little combination is not fancy by far, but its simplicity and mix of flavors and textures is perfectly satisfying for breakfast or an afternoon snack.
Kaya toast was introduced to Southeast Asia by Chinese immigrants from Hainan, China. An interpretation of British tea sandwiches, the snack consists of thin slices of white bread lightly toasted over a charcoal grill and slathered with homemade coconut jam and a dab of butter in the middle. For a complete meal, the kaya toast is accompanied by soft boiled eggs with white pepper and dark soy sauce on the side. The uncles and aunties here in Singapore wash it down with a hot cup of kopi-c or teh-c. Surprisingly strong yet smooth coffee or black tea hand-brewed in a sock filter and mellowed with evaporated milk and a bit of sugar.
Kaya toast is typically served in kopitiams, small traditional coffee shops dotted throughout Singapore and Malaysia. Fortunately there are still mom and pop outdoor coffee stalls serving kaya toast, but modern kopitiam chains are becoming more prevalent in indoor food courts and fancy malls. It's difficult to find shops that make their own homemade kaya anymore, so it's well worth scouting out coffee stalls that still make the effort. Since my kids love kaya more than peanut butter or nutella, I decided to try my hand at making my own kaya at home. It's super easy, just take patience to cook the coconut custard over low heat so the jam doesn't curdle.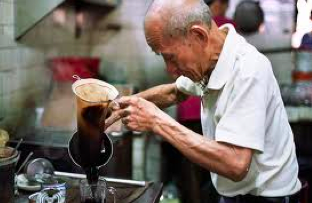 Kaya is a jam made from slow-cooking a coconut milk based custard flavored with earthy pandan leaves. For a classic Singaporean breakfast, spread kaya on slices of toast with a dab of butter to make an incredible light morning or afternoon snack.
Kaya – Coconut Jam
3 whole eggs and 2 egg yolks
1/2 cup light brown sugar
1/4 cup granulated sugar
1/4 teaspoon salt
1 1/2 cups coconut cream or thick coconut milk
2 pandan leaves, rinsed (or substitute 1/2 teaspoon vanilla extract)
In a medium stainless steel bowl, beat eggs, sugars and salt with a whisk until the sugar has dissolved. Whisk the coconut cream into the egg mixture.
Use the side of a knife and scrape the pandan leaves to bring out the flavor of the leaves. Stack the leaves together and tie them in a lose knot. Place the pandan knot into the custard.
Make a double boiler by bringing 3 inches of water to a boil in a small saucepan. Turn the heat to low and place the bowl of egg mixture on top of the double boiler, making sure the water does not touch the bottom of the bowl. Whisk the coconut egg mixture slowly until the jam thickens to the consistency of thick curd and turns a light caramel color, about 20 to 30 minutes.
Once the coconut custard thickens, remove the bowl from the saucepan and discard the pandan leaves. For a smooth consistency, push the jam through a fine sieve, otherwise, let the jam cool and place into a jar and refrigerate for up to 3 weeks.