After more than a year of slurping amazing prawn noodles and pounds of chicken rice here in Singapore, I couldn't help but crave a big "stick to the ribs" bowl of Southern shrimp and grits! What prompted all of this was a visit from our new friend, Mr. Dwight….from all places, Northridge, CA. He came for his annual visit to Singapore to stay with our mutual friends, local Singaporeans, Russel and Judy.
Dwight, of course, is a certified "home cooking" junkie, as we all are, and was generous enough to spend his vacation time sharing with us some of his favorite Southern recipes he learned from his mom and dad, originally from Louisiana. In between visits to local hawker stalls, we spent an insane week of chatting, sweating over a hot stove in Russel and Judy's lovely black and white bungalow, and laughing over sticky ribs and pulled pork, creamy slaw and slow-cooked red beans. Conversations flew from where to find the creamiest durian in Singapore to the best shrimp and grits each of us has ever tried. Before you knew it, we were planning to make a potful of grits and savory shrimp for next day's lunch.
Eating grits is practically a religion for an American Southerner, and breakfast without grits would be unthinkable. The true grits lovers would never consider preparing instant grits, opting instead for the slow-cooked stone-ground version (Anson Mills is my favorite). But sometimes the latter can be difficult to find in this international city. Instant grits are sold in most Western supermarkets here in Singapore, but don't be surprised if you open a box and find mealworms having a party inside (definitely not a big turn over item on Asia's supermarket shelves).
My mom's side of the family is from North Carolina, so childhood summer breakfasts always included grits and eggs with toast and grape jelly! Now that we live in Singapore, it's only fair that I continue the tradition of Southern Sunday breakfasts and occasional shrimp and grits dinners with my children. My variation of this iconic dish might not be "authentically" Southern, but its darn good and not loaded with butter and cream. All I know is that it tasted great that afternoon on Russel and Judy's breezy patio with a full belly and a glass of homemade iced tea.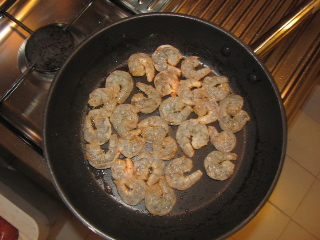 Shrimp and Grits
Makes 4 servings
3 1/2 cups chicken stock
1 cup whole milk
1/2 teaspoon salt
1-1/2 cups instant grits
1 cup sharp cheddar cheese, shredded
1 tablespoon butter
1/3 cup smoked bacon, cut into 1/4 inch dice
2 tablespoons canola oil
3 green onions, minced
2 cloves garlic, peeled and minced
1 stalk celery, minced
5 to 6 white mushrooms, stemmed and cut into 1/8 inch slices
1 tablespoon flour
1 1/2 lb shrimp, peeled and deveined
1/2 teaspoon Old Bay Seasoning
1/3 cup white wine
3/4 cup chicken stock
1 tablespoon lemon juice
2 tablespoons unsalted butter
1/8 teaspoon salt
1/8 teaspoon ground black pepper
In a sauce pan, bring stock to a low boil and add milk and salt. Whisk in the grits, reduce to low heat and simmer until the grits thickens and becomes creamy, 5 minutes. Remove the grits from the heat and stir in the cheese and butter. Cover with a lid to keep warm.
Heat a large saute pan over medium heat and fry the bacon until crisp and golden brown. Transfer the bacon with a slotted spoon to a paper towel lined plate, reserving 1 tablespoon of bacon fat in the pan. Return the heat to medium, add 1 tablespoon of canola oil and saute 1/2 the green onions and garlic for several seconds. Add the celery and saute until just tender, 2 minutes. Add the mushrooms, season with salt, pepper and Old Bay and continue to saute until they release their moisture. Transfer the mushroom mixture to a bowl.
Return the pan to the heat over medium-high and add the remaining tablespoon of oil to the pan. Pat the shrimp dry and lightly coat in flour and pan sear the shrimp until crispy brown on both sides and just opaque, 2 minutes. Transfer the shrimp to the bowl with mushrooms. Deglaze the pan with wine and reduce by half, add the stock and reduce by half again. Season with lemon juice and swirl in the butter and season with salt and pepper. Transfer the shrimp and mushrooms to the pan sauce. Spoon the shrimp over the grits and serve with hot sauce.