If I had to choose one indispensable ingredient in my kitchen, it would be ginger. Used in cooking for thousands of years, it is a staple in most Asian kitchens. Not only valued in cooking, ginger is also utilized for medicinal purposes. Primarily known to stimulate circulation and aid in digestion, ginger can also be used as homeopathic medicine for inflammation. For an upset tummy, I swear by ginger tea. Try steeping several slices of fresh ginger root with honey in a large mug full of boiling water. For emergencies, I even keep candied ginger in my glove compartment just in case of bumpy car rides.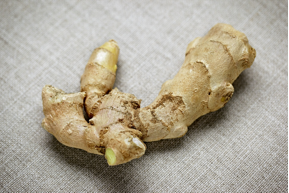 Ginger root is a rhizome, a stem that grows underground into a thick, knotted shape with a firm texture. The flesh of the ginger root is generally pale yellow, with a light beige skin and a pungent, spicy flavor. When buying fresh ginger, look for smooth, tan-colored skin that is not wrinkled in texture. Fresh ginger can be stored in the refrigerator for several weeks.
To keep ginger even longer, grate or mince one cup of ginger, place it in a sterile jar, cover it with vegetable oil, and preserve in the fridge for at least a month. Scoop out the ginger for stir-frying or use the infused ginger oil for salad dressings.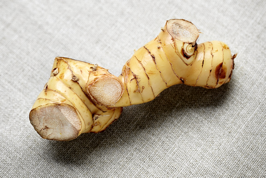 Not to be confused with root ginger, there is also galangal, otherwise known as Thai ginger. Though related and resembling ginger, galangal has ring-like markings, but is harder in texture and more pale in color. With a distinctive citrusy pine aroma, galangal is used predominantly in Southeast Asian cooking from soups to curries. More difficult to cut, Thai ginger should be peeled and then sliced or chopped before use. Store galangal in the refrigerator for approximately one week or until the skin begins to darken and wrinkle.
Other than adding wonderful flavor to a dish, I was taught by my grandmother early on that ginger also serves two main purposes in cooking: to help tenderize meat and to help rid of any "fishiness" in a seafood dish.
To tenderize meat, before stir-frying or grilling, peel and grate a 3-inch piece of fresh ginger, squeeze the ginger pulp, and reserve 1 to 2 tablespoons of the ginger juice. Add the juice to your marinade and let the meat rest for at least 30 minutes before cooking. For fresher tasting fish, rub 1 teaspoon of salt and 2 tablespoons of grated ginger all over whole fish or filets before steaming or roasting.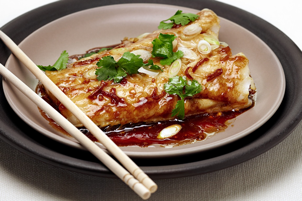 Here's a wonderfully simple recipe for Cantonese steamed fish that is flavorful and pairs well with stir-fried greens and rice.
Ginger-Soy Steamed Fish, China
Makes 4 servings
Ingredients
1 1/2 lbs or 4 (6 oz) sea bass or halibut filets
1/4 cup green onions, white parts only, finely sliced on the bias
3 tablespoons cilantro leaves
2 tablespoons canola oil
Sauce
2 tablespoons fresh ginger, finely sliced into slivers
2 cloves garlic, minced
3 tablespoons canola oil
1 tablespoon light soy sauce
1 tablespoon dark soy sauce
1 teaspoon oyster sauce
1 teaspoon toasted sesame oil
1/2 teaspoon sugar
1/2 teaspoon cornstarch
1/8 teaspoon ground white pepper
Instructions
Place a steaming rack in a work or a deep pan and fill the pan with 2 inches of water. The water should be below the steaming rack. Bring the water to a boil over high heat.
Combine the ingredients for the sauce in a small bowl. Place the fish filets on a plate suitable for steaming and large enough to hold the filets in a single layer. Spoon the sauce evenly over the fish filets.
Place the plate of fish on the steaming rack, cover tightly and steam the fish over high heat for 7 to 10 minutes per inch thickness of fish. Carefully remove the plate from the steamer and transfer the filets to a warmed platter and spoon the sauce over the fish.
To serve, heat the remaining 2 tablespoons of oil in a small pan until near smoking. Place the green onions and cilantro on top of the fish filets and carefully drizzle the hot oil over the fish. Serve immediately.
Authentically prepared with seafood, this classic Thai soup is loaded with aromatics and seasoned with lime and fish sauce. It is a perfect blend of salty, sweet and sour to soothe whatever ails you.
Lemongrass & Seafood Soup (Tom Yum Goong), Thailand
Makes 4 servings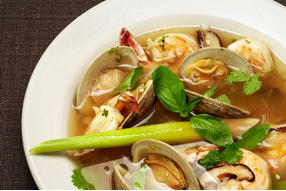 Ingredients
2 lbs clams
1 lb shrimp, peeled and deveined
8-10 shiitake mushrooms, fresh, stems removed and thinly sliced
3 lemongrass stalks, trimmed and crushed
4 fresh galangal slices, ¼ inch thick, peeled and smashed
4 shallots, thinly sliced
8 cups low sodium chicken broth
5 kaffir lime leaves, shredded
2 tablespoons lime juice
¼ cup fish sauce
1 tablespoon chopped palm sugar
2 tablespoon canola oil
Aromatic paste
4 cloves garlic
2 green serrano chilies, seeded and chopped
3 tablespoons cilantro stems
1 ½ teaspoons black peppercorns, coarsely ground
Garnish
¼ cup Thai basil, shredded
¼ cup fresh cilantro
Instructions
Use a mortar and pestle or mini-food processor to grind the ingredients for the aromatic paste, with a tablespoon of water, until smooth and set aside.
In a stockpot over high heat, heat the canola oil, add mushrooms, and sauté until they begin to brown, about 2 minutes. Stir in lemongrass, galangal slices, and shallots and sauté until fragrant, about 2 minutes longer.
Pour in the broth and bring to a boil. Reduce heat to medium, stir in the aromatic paste, and simmer 3 to 4 minutes. Add the kaffir lime leaves, fish sauce, lime juice, palm sugar and stir to mix well. Simmer soup for 5 minutes to allow flavors to develop.
In a separate pan, heat 2 cups water to a simmer and cook the clams until they open, then remove from heat. Discard the cooking liquid and any unopened clams. Set aside.
Just before serving, stir in the shrimp. As soon as they begin to turn pink and opaque, after about 3 minutes, remove the soup from heat. Add in the cooked clams and heat through. Ladle the soup into warm bowls, garnish with the shredded herbs and serve immediately.