Chinese New Year celebrations have officially come to a close and we all are sticking to our New Year's resolutions so far. I want to thank all the individuals who have submitted their favorite Chinese New Year recipe(s) on Farina's Asian Pantry. The recipes are all unique and delicious and are not only celebratory dishes, but ones we all should include in our repertoire of must-try recipes for the year ahead.
It was very difficult to choose just one recipe to win this year's Chinese New Year contest. I reviewed our reader's comments on Facebook and Twitter and gathered several of my foodie friends here in Singapore to prepare and judge the recipes. We based our decision on taste, presentation, simplicity for the home chef and, of course, how the dish best welcomes in the Lunar New Year.
Our first choice was Rosalind Galt's Braised Sichuan Beef Cheek with Orange for Chinese New Year. We loved Rosalind's idea of preparing the braised beef ahead of time and using the tender meat in a colorful stir-fry. It's a very approachable recipe that most home chefs would enjoy preparing. I like that it's a versatile dish that would also taste great with pork shoulder. I even see serving the stir-fry as a filling for thin warm spring roll wrappers with hoisin and green onions on the side.
As honorable mention, I want to make sure to commend Shirley Tay on her submission of her recipes for Chinese New Year. Thanks again everyone for your participation and here's a recap of all the Chinese New Year recipes submitted by our enthusiastic chefs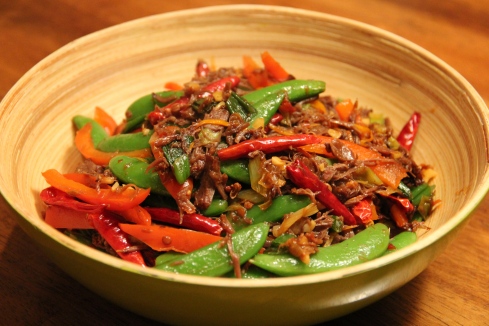 Sichuan braised beef with orange
This dish has a lot of ingredients but you're mostly chucking them in a pot and leaving for hours, so it's not hard. It begins with a braise and then adds the braised meat into a final stir fry. However, if you felt especially laid back (it is the year of the rabbit, after all) you could simply stop there and serve the braised beef with some steamed or wok-fried greens.
for the braise:
* stick of cinnamon
* 5 garlic cloves
* 1 tsp Sichuan peppercorns
* 8 dried red chilies
* 3 star anise
* 2 pieces of dried mandarin peel
* 2 strips fresh orange peel
* 2 heaping tsp chili bean paste
* 1 tbsp light soy sauce
* 1 tbsp Shaoxing wine
* 1 beef cheek
Trim the cheek of any visible fat and season with salt and pepper. Brown in vegetable oil in an ovenproof casserole. Meanwhile, toast the peppercorns, cinnamon, star anise, chilies, and dried mandarin peel one at a time on a dry skillet until they release their scent. It will only take a few seconds per ingredient, so be careful not to burn them. Crush the garlic cloves roughly. When the meat is browned all over, take it out and put it on a plate for a moment. In the same pot, add the chili bean paste and fry. Add all the other ingredients, put the meat back in, and add 2 cups of water. Bring to the boil, then cover and put in a medium-low oven (gas mark 3, 325 F, 170 C). Cook for 3 hours, turning the meat occasionally.
for the stir fry:
* vegetable oil
* bunch of spring onions
* 1 red pepper
* 2 handfuls of sugar snap peas
* 1 tbsp chili bean paste
* 1 tbsp soy sauce
* 1 tbsp Shaoxing wine
* 12–15 dried red chilies
* 3 cloves garlic
* 1 tsp Sichuan peppercorns
* the peel and juice of 1/2 orange
Towards the end of the braising time, prep the next stage. Cut the onions into 1/2 inch slices, slice the red pepper thinly, top and tail the sugar snaps, chop the garlic to a paste, and julienne the orange peel very finely. Juice the orange. Make the sauce by mixing bean paste, soy sauce, wine and a little orange juice. Taste for flavour balance.
Once the meat is cooked, let it sit for a few minutes then shred it with a fork. You want it to look like pulled pork. Heat a wok or large frying pan and, once it's very hot, add a tbsp of oil. When the oil shimmers, fry the spring onions and peppers. Stir for a minute then add the dried chilies, sichuan peppercorns, and orange peel, then the sugar snaps, then the garlic. Stir until the garlic no longer looks raw, then add the meat. Mix well and pour in the sauce. Fry for another minute until everything is well-combined.
Serves 3-4
Braised Sichuan beef cheek with orange for Chinese New Year by Rosalind Galt