Festive Chinese lanterns and colorful symbols of good luck are already lining the streets and homes of Singapore in preparation for the Chinese New Year celebration. Traditional savories and sweets are stacked high in food shops and the scent of grilled dried pork wafts from street stalls everywhere.
Lasting for 15 days, the Spring Festival will be celebrated in Singapore and in Asian communities all throughout the world ringing in the lunar New Year. Most overseas Chinese families have cherished a number of old customs of generations past and have adapted them to their New Year traditions. No matter how the occasion is observed, this time of year is for turning over a new leaf, spring-cleaning and spending time with family and friends.
In Singapore, as in most cities with large Chinese communities, families celebrate by rotating between homes of their relatives and gathering at Chinese restaurants sharing elaborate meals of fortuitous dishes. Some familial customs dictate that the foods of New Year served should have a symbolic meaning or name that sounds like the Chinese characters for happiness, longevity, and prosperity. Yu Sheng is considered the perfect celebratory dish where each of its ingredients signifies symbols of good fortune. In Mandarin "Yu" means fish, but sounds like the character for "abundance" and "sheng" literally translates as raw, but when enunciated correctly, it sounds like "life," implying abundance of wealth and long life.
Unique to Singapore and Malaysia, Yu Sheng is a colorful and flavorful raw fish salad traditionally eaten on the 7th day of the New Year. Due to the dish's popularity and auspicious symbolism, Yu Sheng has now become a dish eaten throughout the Chinese New Year. Humble in its origins, Yu Sheng originated in Southern China as a simple raw fish dish served at roadside stalls. It evolved into an elaborate shredded vegetable salad with slivers of raw fish, made popular at the Lai Wah restaurant in Singapore in the 1960's and it is still being served today. Authentically, this impressive salad consisted of 7 ingredients (to signify the 7th day of festivities) with slivers of raw fish, pomelo, carrots, radish, pickled ginger and crisp fried dough all tossed in a sweet and sour plum dressing with assorted toppings. The recipe still holds true, yet you'll find endless variations from slivers of abalone and jellyfish to strips of fried taro.
Typically served as a starter to a celebratory family style meal, it is customary for the host to invite their guests to gather around the Yu Sheng platter to commence the New Year meal. The custom begins with the host or server dressing the salad with 5 spice powder, lime juice, fried dough, plum sauce and seasoned oil. Between the additions of each of the toppings to the salad, the host recites incantations of good fortune. On cue, everyone uses their chopsticks to toss the shredded salad up in the air accompanied with enthusiastic chants of "Lo Hei" (Cantonese for tossing up luck). It's believed that the higher the salad is tossed, the greater potential for the diner to achieve good fortune. It's really quite a celebratory spectacle to experience.
Most restaurants in Singapore charge a premium for serving Yu Sheng during the Spring Festival. Some Singaporean families still diligently prepare the labor-intensive dish or opt to buy Yu Sheng kits packed with pre-shredded vegetables and toppings. So, for the year of the rabbit, I've decided to try my hand at creating my own rendition of this unique New Year delicacy.
Originally, carp was sliced thin and tossed with this salad. Yellowtail tuna or salmon are served as common substitutes. I use a mandoline or Japanese box shredder to prepare the vegetables for this elaborate salad. Choose a decorative dish to display the separate mounds of ingredients. Right before serving, gather your family and friends around the table and divvy out the chopsticks. Sprinkle the wonton strips over the salad, drizzle with the plum sauce and oil and toss the salad high in the air…Happy New Year!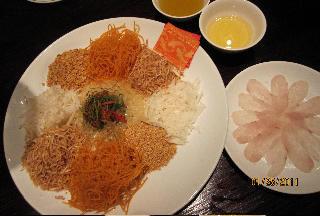 Yusheng  – Raw Fish and Shredded Vegetable Salad
Makes 4 servings
1/2 lb yellowtail tuna or salmon filet, sliced into paper thin strips
1/4 llb salted jellyfish, rinsed and sliced paper thin (optional)
1 large carrot, peeled and shredded
1 medium daikon radish, peeled and shredded
1 cup pomelo, peeled and separate the sacs
1/4 cup pickled shallots, sliced paper thin
1 tablespoon pickled red ginger
1 tablespoon pickled green ginger (red is fine)
3 kaffir lime leaves, stem removed and sliced paper thin
1/4 cup cilantro sprigs, stems removed
Toppings
1 calamansi lime or wedge of lemon
2 tablespoons toasted sesame seeds
2 tablespoons toasted peanuts, finely chopped
1/2 teaspoon 5 spice powder
1/4 teaspoon ground white pepper
6 wonton wrappers, cut into 1 inch squares and deep-fried
until golden brown
Dressing
1/3 cup bottled plum sauce (not hoisin sauce)
1/4 cup water
3 tablespoons canola oil
1/4 teaspoon toasted sesame oil
Chill the sliced fish and place and fan out onto a decorative plate, cover with plastic and chill until ready to serve.
Shred the carrot and daikon radish and squeeze separately to remove all the moisture. On a large decorative round platter, mound the jellyfish in the center of the plate. Working clockwise, mound 1/2 the shredded carrots, follow by 1/2 the shredded radish and then 1/2 the pomelo next to one another. Repeat the pattern until the circle is tight and complete. Garnish the jellyfish with the pickled shallots and ginger and sprinkle the kaffir lime leaves and cilantro sprigs on top.
To prepare the dressing, in a small bowl whisk together the plum sauce and water, then set aside. In a separate bowl, stir together the canola oil and dash of sesame oil. Pour both the plum sauce and oil into two separate decorative bowls and reserve for later.
Right before serving, garnish the salad with the raw fish, squeeze of lime, sesame seeds, peanuts, 5-spice powder, white pepper and fried wonton squares. Drizzle the plum sauce on top followed by the oil. Everyone toss the salad with chopsticks and don't forget to wish your family and friends good fortune!