Discovering The Ultimate In Contemporary American Cuisine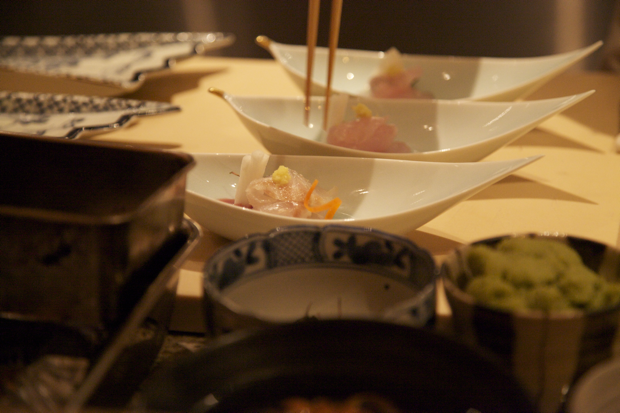 Winding down from my 2-week media trip to the US with night after night of simple to decadent meals, I have to say that my two most memorable dining experiences were found at Brushstroke in New York and INK in Los Angeles. From the creative combination of flavors to the professional fluid service, both restaurants are examples of the ultimate in contemporary American cuisine.
The high-end, predominantly Japanese Brushstroke, is the genius collaboration of the pioneer haute-cuisine chef Daniel Bouley and the historical Tsuji Culinary Institute in Osaka, Japan. The menu is predominantly Japanese and is an exploration of kaiseki, the formal artisanal style of  decorative food preparation. Eight courses are artfully prepared by the Tsuji Institute's students led by Chef Isao Yamada. Each dish is intricately designed with taste, texture and temperature in mind; and, of course, made with only the best seasonal ingredients.
From perfectly simmered fish head in dashi with cloud-like scallop dumplings to soy milk panna cotta with matcha syrup
… the dining experience was ethereal.
Every detail of Brushstroke is thoughtfully planned. The artful food is complimented with subtle yet warm Zen decor along with seamless table service that promises a memorable dining experience.
Meantime, on the West coast is INK, Michael Voltaggio's cozy yet edgy West Hollywood restaurant, attracting all the who's who of LA. Riding from his win at Top Chef, Voltaggio has given haute cuisine a stylized cutting edge at his hot new hang out by marrying modern cooking techniques with seemingly unorthodox, yet, at the same time, familiar combinations of flavors. Thankfully, INK encourages small plate dining so you can try the kitchen's amazing range of cooking skill and experience Voltaggio's choreography of textures.
One of my favorite dishes was smoky oven roasted brussels sprouts with a puree of apple, flash fried slivers of pig's ear and translucent strips of lardo. INK's creativity carries through to desserts, with a wintry apple-based dish of creamy salted caramel, cubes of apple gelatin, and gingery biscuit crumbs with "burnt wood" ice cream. Like Brushstroke, the excellent table service combined with the unexpected presentation of food will definitely not disappoint.
There's no surprise then that Brushstroke and INK were each named by GQ's food critic Alan Richman in his Best New Restaurants this year (#2 and #1, respectively). The quality and uniqueness of these two restaurants are a breath of fresh air and I'm excited to try their seasonal summer menus the next time I return to the US.