Summer is my favorite time of year. School is out for our girls and we return to the US and take time to reunite with family and friends. Our home on Bald Head Island, NC has become a haven for rest and relaxation. Days are spent in the sun and surf and evenings are spent cooking together and sharing in a simple casual meals on our breezy porch or on the beach.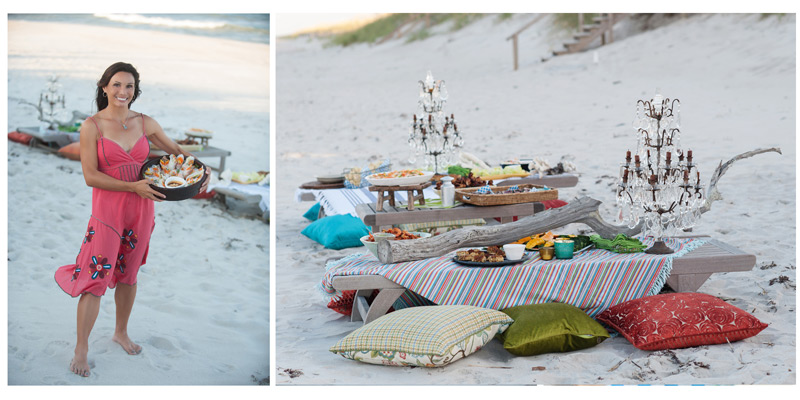 Food always seems to taste better to me when when you dine outside. Since most of my family are fans of Asian flavors, I often prepare an Asian inspired tapas menu that is colorful, tasty and perfect to serve as finger food.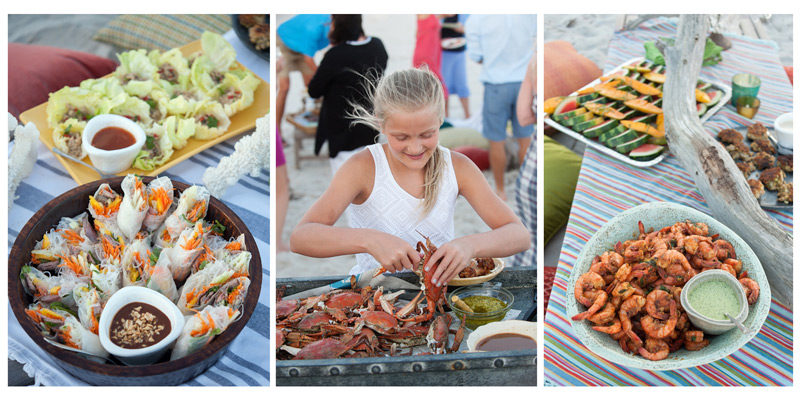 Most of the dishes I enjoy serving are accompanied with zesty sauces that can be prepared in advance…so you don't have to spend hours over a hot stove. I also try to add a variety in taste and texture from crunchy shaved vegetable salads to refreshing savory noodles served with grilled skewered meats that compliment each other and taste great at room temperature.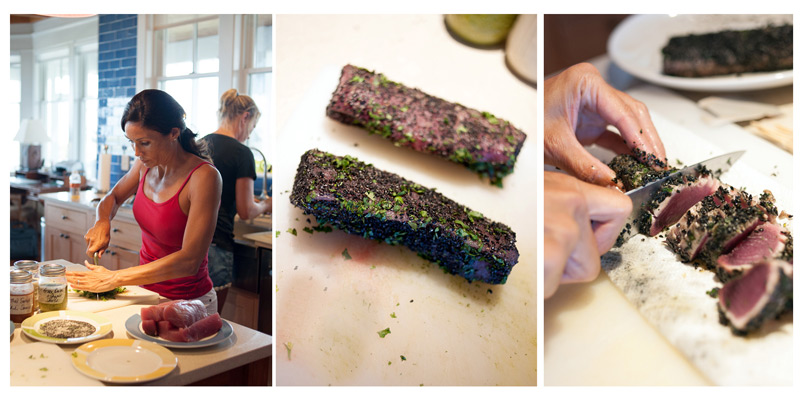 Check out my menu and recipes from a recent beach party that appeared in the July issue of Coastal Living Magazine. Have a great summer and be sure to have a fun picnic or dine outside at least once this summer!
---
Seared Tuna with Wasabi Aioli
1 lb sushi grade yellow fin tuna, sliced into 1 1/2 inch thick steak
1/2 cup light mayonnaise
1 tablespoon wasabi paste
1 tablespoon light soy sauce
1 teaspoon lemon juice
1/2 teaspoon sugar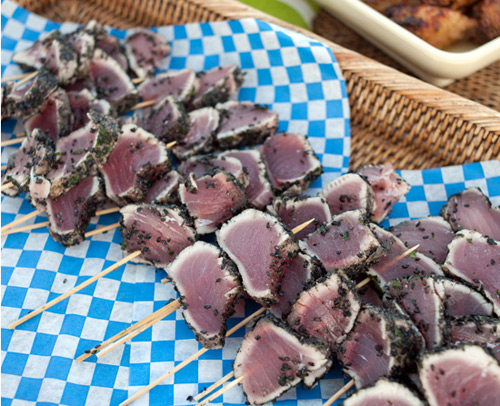 To prepare the aioli, whisk together the mayonnaise, wasabi paste, soy sauce, lemon juice and sugar until a smooth consistency. Refrigerate the sauce until ready to serve.
Right before searing, pat the tuna dry and season the steak with salt and pepper on all sides. Heat a heavy bottom pan over medium-high. Once the pan is hot, add 1 tablespoon of vegetable oil to the pan and sear the tuna until golden brown, about 2 to 3 minutes. Carefully flip the tuna and repeat in the other side. Transfer the steak to a plate and place in the refrigerator for at least 10 minutes to stop the fish from cooking.
Slice the tuna steak across the grain into 1/2 inch slices and fan out on to a platter. The tuna should be rare in the center. Drizzle 2 tablespoons of the wasabi aioli on top or serve on the side.
---
Curry spiced shrimp with cilantro yogurt chutney
Serves 4 to 6
1 1/2 pounds large shrimp, deveined but not shelled
2 tablespoons vegetable oil
4 garlic cloves, minced
4 green onions, minced
2 tablespoons unsalted butter
1 teaspoon lemon juice
2 tablespoons chopped cilantro
Spice mixture
1 teaspoon Madras curry powder or curry powder
1 tablespoon red curry paste
1 teaspoon light brown sugar
1/4 teaspoon kosher salt
1/8 teaspoon freshly ground black pepper
Heat a large heavy bottom pan. Once the pan is hot, pat the shrimp dry and add 1 tablespoons of oil to the pan. (Sear the shrimp in 2 batches if your pan is less than 10 inches in diameter.) Add the shrimp to the pan in a single layer and sear until the shell turns crisp and orange in color. Flip the shrimp to sear the other side for repeat, 1 minute. Transfer the shrimp to a bowl and reheat the pan over high heat.
Once the pan is hot, add 1 tablespoon of oil and saute the garlic, green onions for several seconds. Stir in the spice mixture and saute until fragrant, 1 to 2 minutes. Quickly add the the shrimp back to the pan and stir fry until the well combined. Toss in the butter, squeeze of lemon juice and the chipped cilantro. Once the butter melts, transfer the shrimp to a warm platter and serve.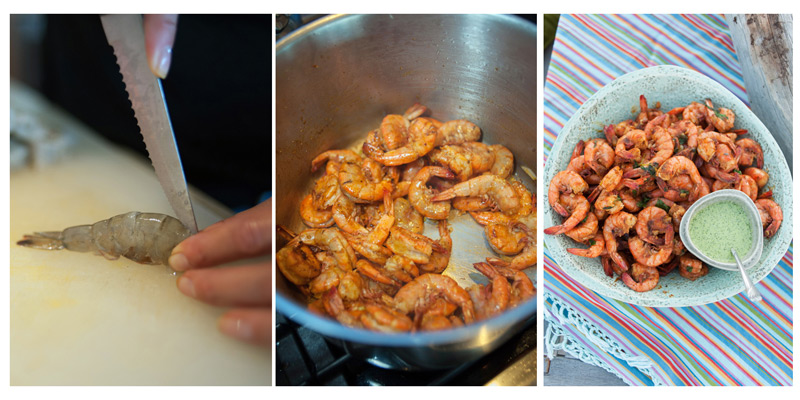 Cilantro yogurt chutney
Makes 1 1/2 cups
1 cup coarsely chopped cilantro leaves
1/4 cup mint leaves
3 green onions, chopped
1 green jalapeno, seeded and chopped
1 teaspoon grated ginger
1 clove garlic
1 tablespoon lemon juice
1/2 teaspoon ground cumin
1/2 teaspoon salt
1/8 teaspoon ground black pepper
1 cup plain yogurt, drained of liquid
Combine all the ingredients for the chutney in the bowl of a mini-food processor or blender. Blend until the mixture is smooth, stopping to scrape the sides of the container. Pour the contents in to a bowl and stir in the yogurt to combine. Season to taste with salt and pepper. The chutney can be refrigerated for up to 4 days.