It was date night for me and my husband Chris. We kissed the kids goodnight and barely escaped out the door in time to make our dinner reservation. We live in a small apartment complex in Singapore where our elevator door opens out into a very warm parking garage. As the doors opened this evening, we caught a whiff of something divine….it definitely smelled like curry…and a complex one at that!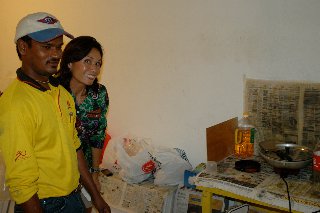 Our neighbors are predominantly expats from France and England, so we deduced that the tantalizing aroma probably wasn't from any of their kitchens. Resembling cartoon characters lifting our noses in the air, Chris and I followed the amazing scent to find the source of this "curry." There was a door ajar where we could see an Indian gentleman squatting on the floor cutting whole fish with a kitchen knife. Turns out that it was "Samy" (one of the handful of diligent workers that help maintain our immaculate building) making his meal of fish curry in a small closet.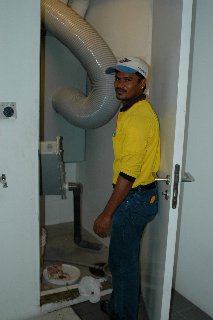 All Samy wanted to do was prepare dinner for himself and his co-workers, but instead I had to bombard him with questions about his mystery curry. Samy is a Tamil from Chennai (formerly called Madras), India. Tamils from this southeastern part of India make up approximately 2/3 of the Indian population in Singapore. The food of his homeland is comprised of a staple of rice, legumes, and lentils served with vegetarian and non-vegetarian dishes prepared with a blend of spices such as coriander, ginger, chili, pepper, cinnamon, cardamom and cumin.
Samy's curry is typical of Chettinaad cooking: a fish stew filled with fragrant fresh aromatics like ginger, shallots, and garlic, fried with a combination of ground dried spices and seasoned with curry leaves in a coconut milk-based sauce. Samy opted to add slices of green mango and sour tamarind to compliment the flavor of the fish. I asked Samy what was essential to making a great fish curry and he shyly responded that the key was "Baba's Sambar Curry Powder." This popular Indian packaged spice blend consists of toasted and ground coriander, cumin, chili, turmeric, fennel and fenugreek, which is found in most "wet markets" throughout Singapore. Luckily, it is also available online and found in some U.S. Asian markets.
We didn't have time to wait for Samy to complete his aromatic curry, but he was kind enough to walk us through the steps of preparing his dish and share his recipe with me. Just imagine how satisfying his curry must have tasted after a long day of work. In the future, I will think twice before complaining about not having the proper ingredients, utensils, or space to prepare a wonderfully satisfying meal! Of course the surprise encounter made us Chris and I to wish we were having curry for our date night, but at least we returned home several hours later to the lingering aroma of Samy's "curry in a closet".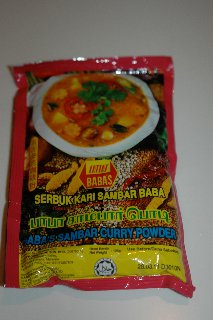 Samy's Fish Curry
1 lb pomfret or tilapia, cut into 1-inch steaks with the bone, rinsed well
3 tablespoons oil
4 shallots, peeled and chopped
3 cloves garlic, minced
1 tablespoon minced ginger
2 green chilis, seeded and chopped
2 tablespoons Baba's Sambar Curry Powder*
1/2 cup coconut milk
2 cups water
1 tablespoon tamarind paste
8 to 10 curry leaves
1/2 teaspoon salt
1 green mango, peeled and sliced into 1/4 x 3 inch pieces
*Substitute a spice blend of 1/4 teaspoon turmeric powder; 1/2 teaspoon ground fenugreek, 1/2 teaspoon red chili powder, 1/2 teaspoon ground coriander and 1 teaspoon ground cumin
Use a mortar and pestle or blender to grind together the shallots, garlic, ginger and green chili until a thick paste forms, set aside.
Heat a large saute pan over medium-high heat, add the oil and fry the aromatic paste until golden brown and fragrant, 4 to 5 minutes. Add the Baba's curry powder or the spice blend and continue to saute for another 2 minutes. Stir in the coconut milk and as soon as the sauce bubbles, add the water, tamarind paste, curry leaves and salt and bring to a low boil over medium heat. Stir in the green mango and simmer for 15 minutes. Reduce the heat to low, add the fish and simmer uncovered for 7 minutes. Carefully turn the fish on the other side and simmer until the filets are just cooked through, about another 5 minutes.
Season to taste with salt and serve over hot basmati rice.